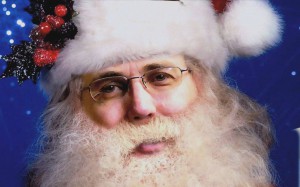 Thought that headline might get your intention. In reality he's had to politely decline as he's far too busy. At least we can rest assured the reindeer won't incur a fixed penalty notice when delivering in the area on Sunday!
Seriously though, it has been confirmed that the long awaited re-opening of the Kingswells to Cults road will take place on 23rd December 2016. The road is due to re-open by 6pm, but the exact time may vary.
Local councillor Steve Delaney said, "After 20 weeks of closure this can't come soon enough. The additional congestion on other routes as well as increased journey times has been an absolute nightmare for local residents".
"Please note that there have been some changes to the road layout, so I would advise everyone to take extra care until you get used to the new layout. In addition there will still be some ongoing works on the roadway, footpaths and verges, so caution is advised."
Thankfully there are no plans for any further closures of this road. However, there will be a section of Countesswells Road closed from 16th January 2017 for about eight weeks to complete the task of getting gas, electric, water and telephone connectivity into the Countesswells development site. Appropriate diversion will be put in place.