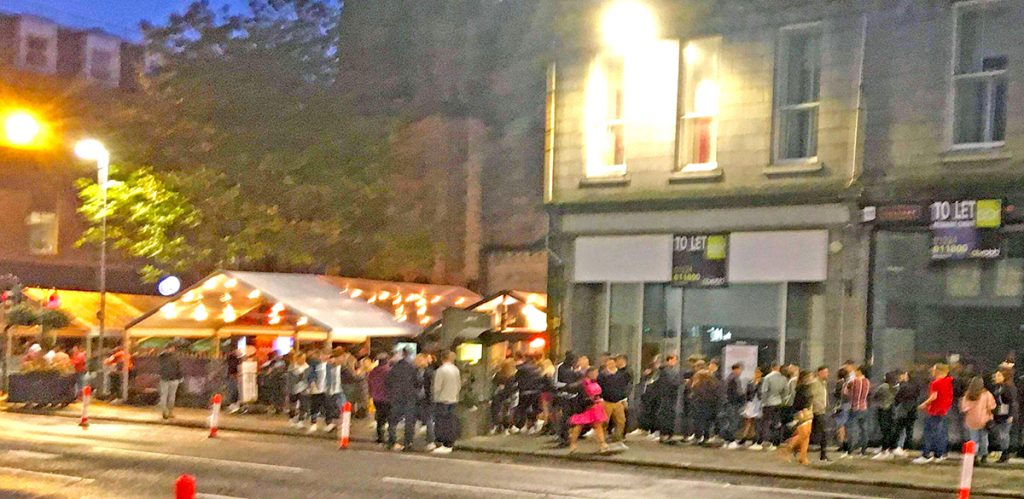 Many residents have expressed their anger at scenes such as those seen outside Soul (above). Queueing with no social distancing outside a number of other city centre licensed premises was also observed.
Kingswells, Sheddocksley, Summerhill councillor Steve Delaney said, "We have all sacrificed so much during the lockdown in order to take us to a position where it has become possible for shops and other businesses to re-open safely and, more importantly, for us to be able to visit family and friends once more".
"Covid-19 has not gone away, it is not yet beaten, it remains an invisible killer and I can't emphasise that strongly enough. Anyone who is experiencing covid-like symptoms needs to self isolate and contact NHS 111 to be tested. Ignoring the symptoms and going out and about is totally irresponsible and puts other people's lives at risk".
"I look forward to the day when we can all enjoy getting out and about and socialising with friends and family without the current restrictions. Sadly, last weekend's disregard for social distancing may well have pushed that goal further away".
Liberal Democrat Group Leader Ian Yuill said
What happened outside Soul – and I am told some other venues – over the weekend must not be allowed to happen ever again. Crowds like this put everyone single one of us at risk".

"Venues need to manage their premises, marquees and queues responsibly. Individuals visiting pubs and bars must also take responsibility for their actions and stick to the rules, observe social distancing and help keep themselves and others safe.

The current spike in Coronavirus cases in Aberdeen shows just how infectious and dangerous this virus is. It also makes very clear just how vital it is that every single one of us and every single business sticks to the lockdown rules. We cannot afford to let our guard down. The last thing anybody wants is for more people to become infected, the infection spike to get worse and for even more people to lose their lives to Coronavirus.
Steve concluded, "We have managed to keep the spread of covid-19 at a low level in Aberdeen during the lockdown but I fear we may risk everything unless we learn lessons from this outbreak and act upon those lessons".
Many people will understandably concerned if they have been visiting pubs, cafes, restaurants and other food and drink establishments last weekend. More information on what to do if you are experiencing symptoms can be found here.